Grant Application Materials
Implementation
Round 3 Implementation Funding (2015)
We are currently in the process of preparing a proposal to submit for the 2015 call for Prop. 84 Implementation projects, which is due August 7, 2015.  Seven projects will be submitted (see pre-proposals below).   Contact Holly Alpert (holly@inyo-monowater.org) with questions or for more information.
Documents for your reference and for downloading
DWR Final Guidelines and Proposal Solicitation Package
Inyo-Mono Project Evaluation and Scoring Process (RFP)
Project Pre-Proposals
Conservation Plans for Irrigation, Domestic Water, and Wastewater for the Bishop Paiute Reservation (Bishop Paiute Tribe)
June Lake Water Treatment Plant – Ion Exchange Project (June Lake PUD)
Amargosa Watershed Monitoring: Groundwater, Seeps/Springs, Precipitation, and Evapotranspiration (Amargosa Conservancy)
Meter Installation and Operations for Domestic Water/Water Meter Supervisory Control and Data Acquisition (SCADA) Upgrades on the Bishop Paiute Reservation (Bishop Paiute Tribe)
Indian Wells Valley Water District Cash-for-Grass Project (Indian Wells Valley Water District)
Big Pine Tribal Hydrant Replacement Project (Big Pine Paiute Tribe)
Bartell Parcel Recycled Water Regreening Demonstration Project (Inyo County)
---
Round 2 Implementation Grant:  Submitted March 29, 2013 
Part 1: Authorization and eligibility requirements, Inyo – Mono IRWMP Phase II Plan, Plan adoption information.
Part 2: Work Plans
Part 3: Budget, schedule, measures, technical justifications, benefits and cost analysis, program preferences, disadvantaged community assistance, GWMP and AB 1420 and water meter compliance information, consent form
---
 Additional Resources:
Round 1 Implementation Proposal Submission (January, 2011)
Below are the various pieces that were submitted as the Round 1 Implementation Proposal.  Note that formatting for most of the Excel tables was altered in the conversion to PDF.  Information input directly into Bond Management System (BMS) is no longer available to users.
Round 1 Implementation Proposal Materials
These materials were provided to project proponents to aid in proposal development and may be useful for future rounds of DWR funding or funding from other sources.
Proposition 84 Round 1 Implementation Project Solicitation Package (PSP) and related information from Department of Water Resources
Planning
Round 2 Planning Grant (2012)
On July 27, 2012 DWR released preliminary funding recommendations for Round 2 Prop. 84 Planning Grant funding.  We are very pleased to announce that the Inyo-Mono has received $480,000 toward future water planning efforts in our region!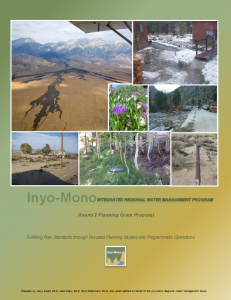 The Round 2 Planning Grant was submitted to DWR on March 7, 2012.  You can find the submitted work plan, budget, and schedule below.  Contact Mark or Holly with any questions.
Additional Planning Grant 2 Resources
Round 1 Planning Grant (2010)
Round 1 Prop. 84 Planning Grant Application (2010)
Proposition 84 Guidelines and Round 1 Planning Grant Project Solicitation Packages (PSPs) from Department of Water Resources (2010)
Region Acceptance Process Submission (2009)