Program Staff
Mark Drew – Program Director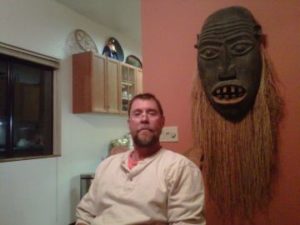 Mark currently serves as California Trout's Eastern Sierra Program Manager and as the Program Director for the Inyo-Mono IRWM Program. Prior to joining California Trout, Mark worked as The Nature Conservancy's (TNC) Southeastern Caribbean Program's Protected Areas Specialist where he managed TNC's conservation programs in the US and British Virgin Islands. Earlier in his career, Mark spent almost 15 years involved, both academically and professionally, in resource conservation in the U.S. mainland, Oceania, and the Asia region. Mark also spent three years as a Peace Corps Volunteer in the Cook Islands and Nepal where he implemented extensive conservation programs, aided in the development of resource management plans, and conducted numerous community-based projects. After completing his M.A. degree at Stanford, Mark worked for Stanford's Institute for International Studies for three years designing and conducting research on the socioeconomic and ecological importance of mangrove and freshwater wetlands in Micronesia. He has conducted extensive research centered on the economic and ecological dynamics of coastal aquaculture systems in Indonesia, Thailand, and Vietnam as well as livelihood systems analysis in Micronesia. Mark is particularly interested in seeking solutions that ensures the health and integrity of natural resources in a manner that also support viable livelihood systems. Mark holds a B.S. degree in Forestry and Natural Resources Management, an M.A. degree in International Development Policy and a Doctorate degree in Forestry and Resource Conservation from the University of Florida.
Holly Alpert – Program Manager
Holly began working for the Inyo-Mono Integrated Regional Water Management Program in August, 2008. After working in and around Mammoth Lakes during graduate  school, she became very interested in California water policy and planning. Her particular interest is in adaptation of water resources management to global climate  change. Holly has also conducted research in plant ecology and ecophysiology,  specializing in Great Basin and Sierra Nevada forest ecosystems. In addition to working  with the IRWMP, she volunteers for the local community theatre, California Native Plant Society, and Devils Postpile National Monument. She enjoys skiing in the winter, hiking and cycling in the summer, and year-round outings with her dog. Holly holds a B.A. in Environmental Science and American Studies from Wellesley College and a Ph.D. in Environmental Studies from University of California, Santa Cruz.
Heather Crall – Legislative Analyst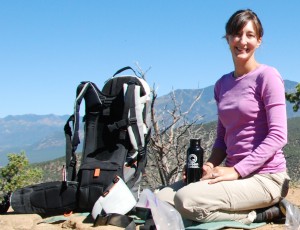 Heather joined the Program Staff of the Inyo-Mono Integrated Regional Water Management Program in fall of 2011, after having relocated to the Mammoth Lakes area from New England. After undergraduate work in biology and ecology, Heather went to law school and spent 5 years practicing corporate litigation, primarily in the fields of intellectual property law and pharmaceutical regulation. She also did substantial pro bono political asylum work. In her free time Heather enjoys all manner of outdoor pursuits; alpine and nordic skiing, hiking, mountain biking, and camping adventures with her children and two dogs. Heather holds a B.A in Biology from Franklin and Marshall College and a J.D from Washington University School of Law.
Rick Kattelmann – Project Development Specialist
Rick is a hydrologist who specialized in watershed management and snow hydrology and is the third former forester on the Program Staff, joining in fall of 2011. He has worked and contracted for the usual land management agencies, public utilities, and conservation groups. Rick was the principal hydrologist for the Sierra Nevada Ecosystem Project in the mid-1990s and authored more than 150 scientific and technical papers. Rick's "fun jobs" included scientific and landscape photography, avalanche safety educator, and backcountry snow surveyor. He served two terms on the Mono County Planning Commission and was a founder of the Eastern Sierra Land Trust. Various jobs and travel opportunities involved lots of skiing in the Sierra Nevada and exploring other mountain ranges of the world. Rick holds B.S. and M.S. degrees in forestry and watershed hydrology at U.C. Berkeley and a Ph.D. in snow hydrology from U.C. Santa Barbara.
Andrew Skaggs – Watershed and Outreach Coordinator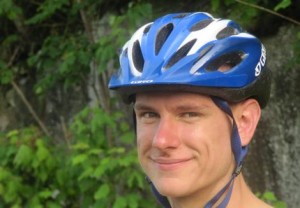 Andrew is an AmeriCorps member serving with California Trout and the Inyo-Mono Integrated Regional Water Management Program in Mammoth Lakes, CA. Originally from New England he became interested in ecology, natural history, and environmental policy throughout the Appalachian and Adirondack mountains. He attended St. Lawrence University in Northern New York where he earned a BS in Conservation Biology.He enjoys all aspects of biology with a particular interest in mammalogy, limnology, and alpine ecology. Andrew loves biking, skiing, rock climbing, and plans on attending graduate school for conservation biology in the near future.  After graduation, Andrew and a few college friends rode bikes from Brunswick, ME to San Francisco, CA to commemorate their graduation.