Meet the "Group"
Regional Water Management Group (RWMG) & Governance
(Bold GREEN letters indicates signatory to the current  Memorandum of Understanding)
*Follow the linked organization name to learn more about our member organizations!
Big Pine CSD

Birchim CSD (Sunny Slopes) 
Breeze-Martin Consulting
Bridgeport PUD
California Department of Water Resources
California Department of Fish and Game
California Native Plant Society
California Rural Water Association
Center for Collaborative Policy
Central Nevada Regional Water Authority
Crowley Lake Mutual Water Company
Crystal Crag Water and Development Association
Death Valley National Park
Devils Postpile National Monument
Eastern Sierra Audubon Society
Eastern Sierra Community Services District
Fort Independence – Amalgamated

Reservation

Friends of the Inyo
Humboldt-Toiyabe National Forest
Independence CSD
Inyo-Mono Agricultural Commissioner's Office
Inyo-Mono Advocates for Community Action (IMACA)
Inyokern CSD
June Lake Advocates
June Lake PUD
Keeler CSD
Kern County
L.A.Department of Water and Power – Bishop Office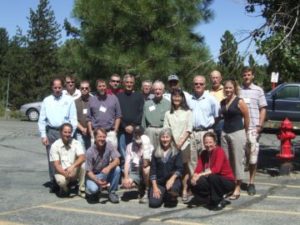 Lee Vining PUD
Lone Pine – Paiute Shoshone Reservation
Lower Rock Creek Mutual Water Company
Lundy Mutual Water Company (Mono City)
Mammoth Lakes Trails and Public Access
Mammoth Mountain Ski Area
Marine Corps Mountain Warfare Training Center
Natural Resources Conservation Service
Sierra Business Council
Sierra Nevada Alliance
Sierra Nevada Conservancy
Southern Cal Edison- Mammoth Service Center
SWRCB – Lahontan Region
Timbisha Shoshone Tribe – Death Valley
U.S. Bureau of Reclamation
U.S. Fish and Wildlife Service
Valentine Eastern Sierra UC Natural Reserve
Virginia Lakes Mutual Water Company
Walker Irrigation District
Wheeler Crest CSD (Swall Meadows)
White Mountain Mutual Water Company
WRAMP Foundation
IRWMP Governance and Structure
All decisions of the RWMG are made by consensus as defined in Article I of the Inyo-Mono Regional Water Management Group Planning and Implementation Memorandum of Understanding (MOU). After a motion is made by a Member, there is opportunity for discussion, and then RWMG Members are asked to vote. Members may approve a decision (thumbs up), vote that they can live with a decision while not completely approving of it (thumbs sideways), or disapprove of a decision which withholds consensus (thumbs down). A Member may also abstain from voting, which will be interpreted as no opposition to the action. If there are no Members voting thumbs down, the decision is passed by consensus. The decision is then recorded in the meeting notes.